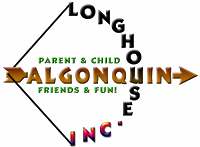 Trailblazer/Trailmates Programs
of the Algonquin Longhouse, Inc. NFP
Buildng memories that last two lifetimes

As children grow older and enter middle school, their schedules tend to become more crowded.  Their capabilities and interests also expand.  Our Trails Programs are designed for these older kids.
The events are more challenging, intellectually and physically, and don't involve the ceremonies or tribal segregations of the Indian Guides & Indian Princesses.
We invite our member families involved in the Indian Guides & Indian Princess Programs to begin sampling the Trails Program while they are still participating with their own tribes.
Many families only learn about our Programs after their children are in Middle School. We invite these families as well.  No prior experience in our programs is necessary to enjoy time together, as parent & child, in our Trails Programs.
For additional information about our Trailblazers and Trailmates Programs, please contact one of the Program Leaders directly or our Federation Chief: